Atomic Minerals Receives Drilling Permit for 20 Drill Pad Locations for Phase I Drill Program at Harts Point Uranium Property, Utah
Vancouver, British Columbia, July 05, 2023 – Atomic Minerals Corporation ("ATOMIC MINERALS" or the "Company") (TSX Venture: ATOM) is pleased to announce that it has received drilling permits for the Harts Point Uranium Property ("Harts Point" or the "Property") in San Juan County, southeast Utah. The Bureau of Land Management ("BLM") has approved up to 20 drill pads to test the extent of uranium mineralization across the Property.
Atomic Minerals executed a definitive agreement with Kraken Energy Corp. (CSE: UUSA) ("Kraken") on May 23, 2023 allowing Kraken the option to acquire up to a 75% interest in Harts Point. Kraken, as the operator, has secured Major Drilling Group International Inc. of Salt Lake City, Utah for the upcoming drill program at Harts Point, which is expected to begin in early July. Phase I of the drill program includes an initial 2,000 meters (m) of drilling to twin the three historical holes which span 4.5 kilometers ("km") of strike and returned off-scale radioactivity from downhole probe readings.
"Drilling at Harts Point is a major milestone for the Company with the anticipated validation of our geological model for Harts Point as a Lisbon Valley analog. The Property contains three historic oil and gas drill holes across a 5 km strike that returned intervals of off-scale radioactivity within the same geologic unit that has been historically mined in the district and first led to our interest in the Property," commented Atomic Minerals President & CEO Clive Massey.
"Success at Harts Point will immediately bring full focus to our 10 Mile property, another Lisbon Valley analog, 80 kilometres to the northwest of our Dolores property, another Lisbon Valley analog, 52 kilometres to the east. We eagerly await the commencement of the 2023 Harts Point drilling program," he continued.
Harts Point Property Highlights:
World class uranium district: located in the center of the Colorado Plateau, which has produced over 328 million ("M") pounds ("lbs") U3O8 at 0.2 to 0.4% U3O8 since the 1950s1.
Property consists of 324 lode mining claims on Bureau of Land Management ("BLM") ground that covers an area of 2,622 hectares ("ha") (6,480 acres).
Harts Point Anticline is Analogous to the Lisbon Valley Anticline: where the Lisbon Valley Uranium District hosted 17 large uranium mines which produced approximately 80M lbs U3O8 at 0.34% U3O8 from 1948 to 19882.

The dimensions of these tabular sandstone-hosted uranium deposits range from 2 to 13 meters ("m") (7 to 43 feet) thick, 100 to 3,048 m (328 to 10,000 feet) long, and 31 to 427 m (100 to 1,400 feet) wide3.

Significant Historic Uranium Production:

Several historic mines located 11 km (7 miles) west of the Harts Point Property produced approximately 280,000 lbs U3O8 at 0.3% U3O8 from the favorable Chinle Formation host rock4.
The Lisbon Valley Anticline located 31 km (19 miles) to the east of the Harts Point Property produced approximately 80M lbs U3O8 0.34% U3O82.

Historic Exploration: Three wide-spaced historic oil and gas wells on the Property (Figure 1) along the east flank of the Harts Point Anticline show 'off-scale' radioactivity within the favorable Chinle Formation host rock.
Permitted to Drill: The Harts Point Property is permitted for up to 20 exploration drill pads.
Excellent Infrastructure: located approximately 64 km (40 miles) north of the White Mesa uranium processing facility.

There is excellent access throughout the Property, which is situated 45 km (28 miles) from the town of Monticello, Utah.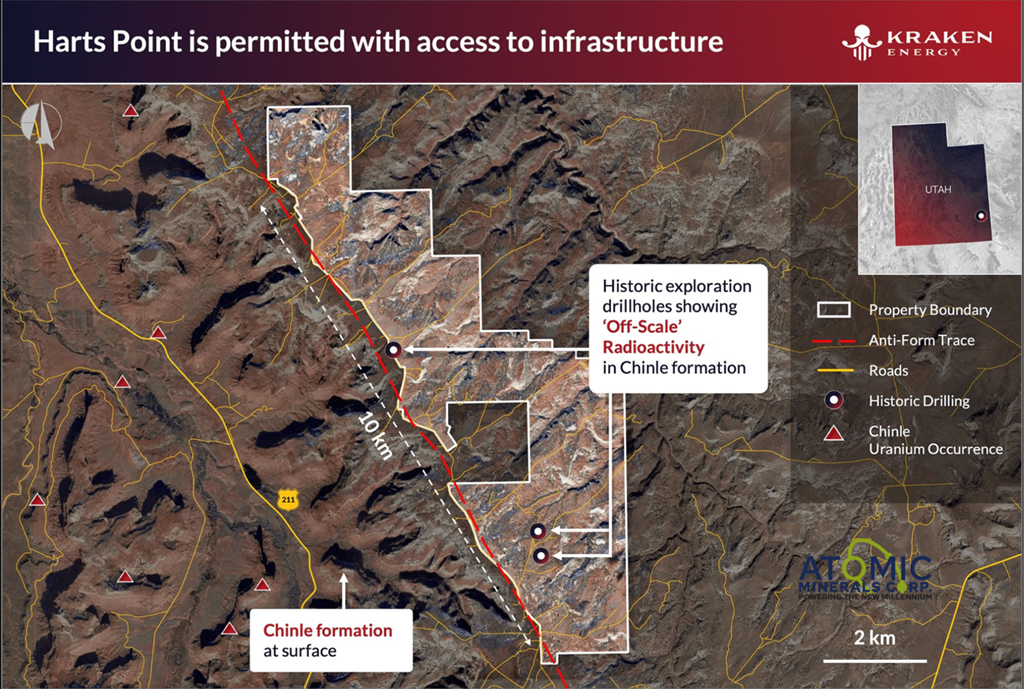 Figure 1: Harts Point Property with Local Uranium Occurrences
References:
1 Holger Albrethsen, Jr., and Frank E. McGinley (1982). Summary History of Domestic Procurement Under U.S. Atomic Energy Commission Contracts, September 1982.
2 Chenoweth, W.L. (1990). Lisbon Valley, Utah's Premier Uranium Area, a Summary of Exploration and Ore Production. Utah Geological Survey Open File Report 188, July 1990.
3 Gordon W. Weir and Willard P. Puffett (1981). Incomplete manuscript on stratigraphy and structural geology and uranium-vanadium and copper deposits of the Lisbon Valley area, Utah-Colorado. Open-File Report 81-39. Pages 153 to 163. United States Department of the Interior Geological Survey.
4 Chenoweth, W.L. (1993): The geology and Production History of the Uranium deposits in the White Canyon Mining District, San Juan County, Utah, Utah Geological Survey Miscellaneous Publication 93-3.
Technical Information
Mr. R. Tim Henneberry, P.Geo. (BC), is the "Qualified Person" under National Instrument 43-101 Standards of Disclosure for Mineral Projects ("NI 43-101") and is responsible for the technical contents of this news release and has approved the disclosure of the technical information contained herein.
The data disclosed in this news release is related to historical drilling results. Atomic Minerals has not undertaken any independent investigation of the sampling, nor has it independently analyzed the results of the historical exploration work in order to verify the results. Atomic Minerals considers these historical drill results relevant as the Company is using this data as a guide to plan exploration programs. The Company's current and future exploration work includes verification of the historical data through drilling.
About the Harts Point Property
Harts Point is located in the center of the Colorado Plateau, referred to by some as "the Athabasca Basin of the US" and is 64 kilometers ("km") or (40 miles) north of the White Mesa Uranium Mill, the only fully licensed and operating conventional uranium mill in the United States. The Property consists of 324 lode mining claims on Bureau of Land Management ("BLM") ground and drill permits are in place for up to 20 exploration drill holes.
About the Company
Atomic Minerals is a Vancouver based publicly listed uranium exploration company trading on the TSX Venture Exchange, with current assets in Saskatchewan's Athabasca Basin and the Four Corners region of the southwest United States. The Company is led by a highly skilled management and technical team with numerous previous successes in the junior mining sector.
For additional information, please visit the Company's website at www.atomicminerals.ca
ON BEHALF OF THE BOARD OF DIRECTORS
"Clive Massey"
Clive H. Massey
President & CEO
For further information, please contact:
Dave Langlais
(778) 316-5105
Neither TSX Venture Exchange nor their Regulation Services Provider (as that term is defined in the policies of the TSX Venture Exchange) accepts responsibility for the adequacy or accuracy of this release.
Forward-Looking Statements:
This news release contains certain statements that may be deemed "forward-looking" statements. Forward looking statements are statements that are not historical facts and are generally, but not always, identified by the words "expects", "plans", "anticipates", "believes", "intends", "estimates", "projects", "potential" and similar expressions, or that events or conditions "will", "would", "may", "could" or "should" occur. Although Atomic Minerals Corporation believes the expectations expressed in such forward-looking statements are based on reasonable assumptions, such statements are not guarantees of future performance and actual results may differ materially from those in forward looking statements. Forward-looking statements are based on the beliefs, estimates and opinions of Atomic Minerals Corporation management on the date the statements are made. Except as required by law, Atomic Minerals Corporation undertakes no obligation to update these forward-looking statements in the event that management's beliefs, estimates or opinions, or other factors, should change.
Back To Archive