Atomic Minerals Options Colorado Plateau Hosted Harts Point Uranium Property to Kraken Energy
Vancouver, British Columbia, May 2, 2023 –Atomic Minerals Corporation ("ATOMIC MINERALS" or the "Company") (TSX Venture: ATOM) is pleased to announce it has entered into a binding letter agreement with Kraken Energy Corp. (CSE: UUSA) ("Kraken") dated May 2nd, 2023 (the "Agreement") which provides Kraken option to acquire up to 75% of the Harts Point Uranium Property (Figures 1 and 2) located in San Juan County, southeast Utah ("Harts Point" or the "Property"), within the uranium rich Colorado Plateau. Harts Point consists of 324 lode mining claims located on land administered by the US Bureau of Land Management ("BLM"), covering an area of 2,622 hectares (6,480 acres) and located 64 kilometers (40 miles) north of the White Mesa Uranium Mill.
Harts Point is located in the Colorado Plateau, a world class uranium jurisdiction with a production history of 328 million pounds U3O8 at 0.2% to 0.4% U3O8 since the 1950's1. Approximately 80 million of these pounds came from the Lisbon Valley Anticline between 1948 and 1988 at a grade of 0.34% U3O82, from Triassic Chinle Formation tabular sandstone-hosted uranium deposits ranging from 2 to 13 m (7 to 43 ft) in thickness, 100 to 3,048 m (328 to 10,000 ft) in length, and 31 to 427 m (100 to 1,400 ft) in width3. Lisbon Valley lies 30.6 km (19 miles) northeast of Harts Point.
Harts Point Property Highlights:
Historic Exploration: Three wide-spaced historic oil and gas wells on the Property (Figure 2) along the east flank of the Harts Point Anticline show 'off-scale' radioactivity within the basal section of favourable Chinle Formation host rock.
Permitted to Drill: The Harts Point Property is permitted for up to 25 exploration drill holes pending the posting of a US$58,000 bond to the BLM.
Excellent Infrastructure: located approximately 64 km (40 miles) north of the White Mesa uranium processing facility. There is excellent access throughout the Property, which is situated 45 km (28 miles) from the town of Monticello, Utah.
Atomic Minerals' technical team has spent the last number of years reviewing the gamma logs and geology logs from the Utah and Colorado historic oil and gas drill holes throughout the Plateau, looking for gamma kicks near the base of the favourable Chinle formation in areas of increased thickness, ideally located along the nose of the salt anticlines. Their thorough search identified Harts Point where three historic drill holes spaced approximately 4.5 km (2.8 miles) apart carried basal Chinle gamma spikes.
These three holes located the prospective Chinle Formation between 1,200 feet to 1,400 feet below surface. Gamma ray logs from each of the three holes showed spikes within the Moss Back Member which forms the basal section of the Chinle and is the primary location for uranium mineralization in this formation throughout the area. The Upper Indian District located 11 km (7 miles) west of the Harts Point Property (Figure 2) produced approximately 280,000 pounds U3O8 at 0.3% U3O8 from the favourable Chinle Formation host rock4, indicating the Chinle is prospective for uranium both to the northeast and west of Harts Point.
Atomic Minerals President & CEO Clive Massey commented, "We are happy to work with Kraken's top notch technical team to validate our geological model for Harts Point as a Lisbon Valley analog. Off-scale radioactivity from three widely spaced historic oil and gas wells within the favouable Chinle Formation along the Harts Point anticline strongly supports our model and we eagerly await the results of the imminent drill program on our fully permitted Harts Point property."
Kraken Energy CEO Garrett Ainsworth commented: "Since Kraken's inception in mid-2022 we have been reviewing numerous uranium properties in the western US to acquire or option, which has led us to selecting the Harts Point Uranium Property based on it's potential to host another Lisbon Valley uranium deposit trend. Harts Point has been de-risked from an exploration standpoint given that there are three widely-spaced historic oil and gas wells that encountered intervals of off-scale radioactivity within the favourable Chinle Formation host rock. Historic uranium mining has taken place 11 km west of the Property where the Chinle Formation outcrops, which confirms that significant uranium mineralization is associated with the flanks of the Harts Point anticline feature."
Terms of the Agreement:
Under the terms of the Agreement, Kraken may acquire up to 75% of the Harts Point Property by meeting the following requirements:
Kraken will be the operator and must incur US$1.5 million of eligible expenditures within 18 months from the closing of the proposed transaction to earn 65%.
Kraken has the option to increase its interest in the Property from 65% to 75%, by incurring an additional US$2.0 million of eligible expenditures within 30 months from the closing of the proposed transaction,
Kraken will issue 2.0 million common shares to Atomic.
Kraken will grant Atomic a 2.0% net smelter royalty (subject to a buy down to 1.0% for US$5.0 million).
After the initial option (Kraken 65%: Atomic 35%) or the extended option (Kraken 75%: Atomic 25%), a definitive Joint Venture Agreement will be formed with each party funding their respective amounts.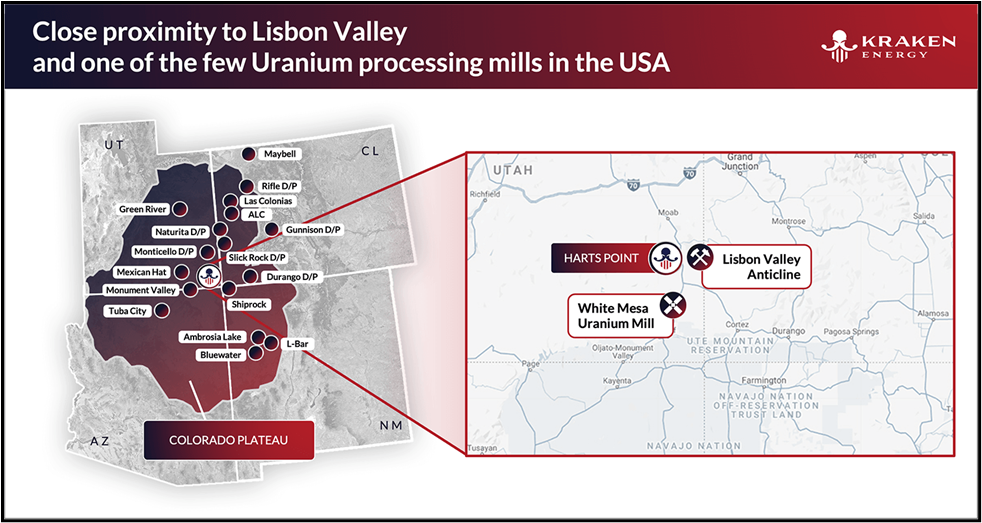 Figure 1: Harts Point Location Map within Colorado Plateau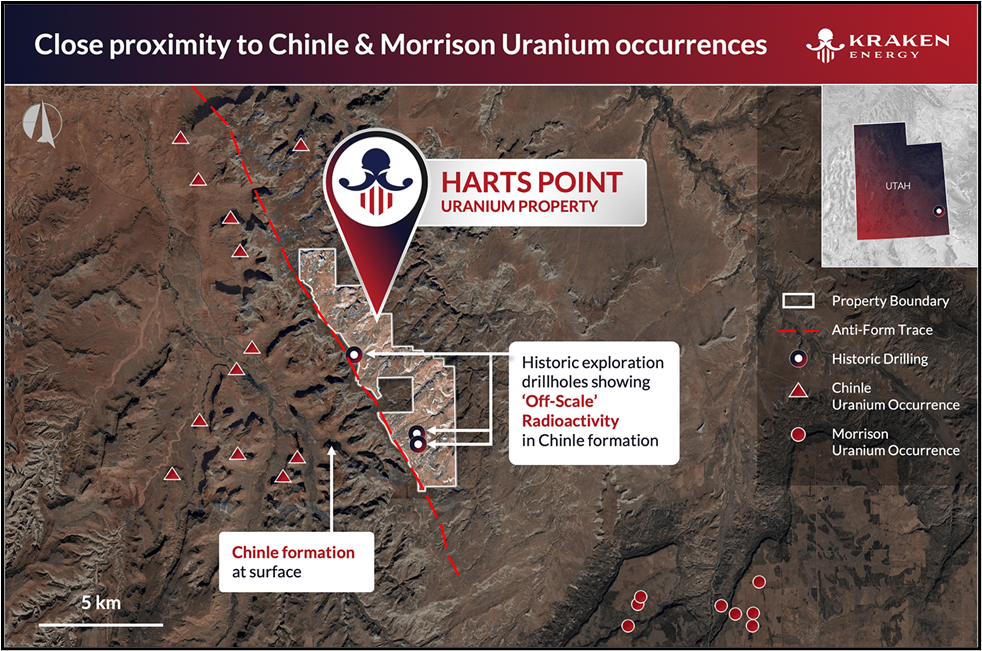 Figure 2: Harts Point Property with Regional Uranium Occurrences
References
1 Holger Albrethsen, Jr. and Frank E. McGinley (1982). Summary History of Domestic Procurement Under U.S. Atomic Energy Commission Contracts, September 1982.
2 Chenoweth, W.L. (1990). Lisbon Valley, Utah's Premier Uranium Area, a Summary of Exploration and Ore Production. Utah Geological Survey Open File Report 188, July 1990.
3 Gordon W. Weir and Willard P. Puffett (1981). Incomplete manuscript on stratigraphy and structural geology and uranium-vanadium and copper deposits of the Lisbon Valley area, Utah-Colorado. Open-File Report 81-39. Pages 153 to 163. United States Department of the Interior
Geological Survey.
4 Chenoweth, W.L. (1993): The geology and Production History of the Uranium deposits in the White Canyon Mining District, San Juan County, Utah, Utah Geological Survey Miscellaneous Publication 93-3.
About the Company
Atomic Minerals is a Vancouver based publicly listed uranium exploration company trading on the TSX Venture Exchange, with current assets in Saskatchewan's Athabasca Basin and the Four Corners region of the southwest United States. The Company is led by a highly skilled management and technical team with numerous previous successes in the junior mining sector.
For additional information, please visit the Company's website at www.atomicminerals.ca
Qualified Persons
Mr. R. Tim Henneberry, P.Geo. (BC), is the "Qualified Person" under National Instrument 43-101 Standards of Disclosure for Mineral Projects ("NI 43-101") and is responsible for the technical contents of this news release and has approved the disclosure of the technical information contained herein.
ON BEHALF OF THE BOARD OF DIRECTORS
"Clive Massey"
Clive H. Massey
President & CEO
For further information, please contact:
Dave Langlais
(778) 316-5105
Neither TSX Venture Exchange nor their Regulation Services Provider (as that term is defined in the policies of the TSX Venture Exchange) accepts responsibility for the adequacy or accuracy of this release.
Forward-Looking Statements:
This news release contains certain statements that may be deemed "forward-looking" statements. Forward looking statements are statements that are not historical facts and are generally, but not always, identified by the words "expects", "plans", "anticipates", "believes", "intends", "estimates", "projects", "potential" and similar expressions, or that events or conditions "will", "would", "may", "could" or "should" occur. Although Atomic Minerals Corporation believes the expectations expressed in such forward-looking statements are based on reasonable assumptions, such statements are not guarantees of future performance and actual results may differ materially from those in forward looking statements. Forward looking statements are based on the beliefs, estimates and opinions of Atomic Minerals Corporation management on the date the statements are made. Except as required by law, Atomic Minerals Corporation undertakes no obligation to update these forward-looking statements in the event that management's beliefs, estimates or opinions, or other factors, should change.
Back To Archive